I began this journey just seeking to learn about psychology and the nature of human behavior. The more I learned, the more I became fascinated with how resilient humans are in the face of significant challenges. However, what I found was that people will continue to live with underlying pain, because of the stigma previously put on people seeking help with mental health and trauma issues. I found that people created their own ways of coping and it often involved creating more harm. I knew at this time that I wanted to help people begin to face tough emotions and move toward healing the emotional pain. This is how I began my journey.
I received a Bachelor of Arts Degree in Psychology in 1991 and a Master of Science Degree in General Psychology in 1993 from Pittsburg State University, Pittsburg, KS. I later went back for another Master of Science Degree in Counseling Psychology from Avila University in Kansas City, MO in 2014.
I have worked in the areas of domestic violence, at-risk youth, at-risk families, foster and adoption, and addiction. I specialize in working with trauma, addiction, and working with couples and families.
I have a husband of over 30 years and 2 adult children. I was born in KS, but have lived in several different states because of my husbands job. We have landed back in KS to live near our aging parents. I live in the country with my 2 dogs and 2 cats.
I have a certified therapy dog with the Loving Paws Therapy Program, who accompanies me to many therapy dog events in the area, and to the office from time to time.
She is a 5 year old Pug named Gemini and she loves to go to "work" providing love and joy to everyone she comes in contact with.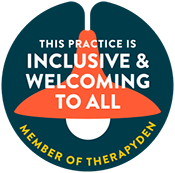 My Office: